Marketplace Insights understands customer acquisition and retention is the lifeblood to your business. Our Direct Mail and Email Marketing solutions have been tested vs the competition and provide better results at a more competitive price.
Ensure your direct mail gets noticed by sending the appropriate messaging and offers with engaging creative.
Variable, personalized, creative custom printing on HP Indigo Digital Press
Customer names along with pertinent information on customer buying behavior increases response rates and ROI
Specific store location to drive phone and foot traffic
Custom photo fonts
Scratch offs, contests & fun to drive consumer engagement












Focused on bringing the customer into the store, thanking the customer for a recent visit, and/or ensuring the customer is satisfied, our email marketing program provides a personalized and efficient way to engage your customers. 
Rewards Programs
Lapsed Customer - Reacquire Lost Customers
Loyal (valuable) Customer Segmentation
New Customer Thank You
Product or Service Sale Programs
Cross Sell Complimentary Products
Previously Declined Purchases
Factory Warranty Expiration
Extended Warranty Offer
Birthday, Anniversary, Special Events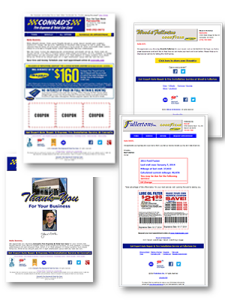 Telephone Mystery Shopping
Telephone shoppers evaluate retailers through the person that answers the phone. They will have several factors to consider when selecting a retailer. Price, availability, sales and deals, specials offers, and financing are tangible factors.  But with the consumer it often goes beyond the tangible factors and into the intangible factors. Factors such as "sounded professional", "gave me respect", "sounded nice", and even "made me feel good", will also play into the consideration. Our secret shopper poses as a consumer and calls your store. During the call, the shopper will begin a digital recording of the shopping experience. As the call progresses, the 'shopper' will then document which of the selling skills your store associate utilized and which ones they did not. As the call comes to a close, the 'shopper' will introduce themselves to your store associate. They will ask your associate if they have 1-2 minutes to review the call. If the store associate is busy, the 'shopper' will call back at a later time. If they have time to review the call, the 'shopper' will identify those selling skills that were utilized correctly and those that were not utilized correctly.
Benefits:
When performance is measured… performance improves
Improve your telephone and sales processes
Convert more telephone calls into actual paying customers
Ensure that your telephone shoppers are being handled properly
Learn "best practices" from other stores and from the competition
Train your associates by giving them the sales tools they need to succeed
Customer Satisfaction Surveying
CustomerSureSM is unlike other customer satisfaction survey programs. We understand that your customers are busy, so our calls are very short, and non-intrusive. Customers and their purchase history are randomly selected. The call center associate then calls the customer, and when a customer is willing to share their experience, the survey is completed, and recorded. Every effort is made to be as unobtrusive as possible. Calls are not started until 9am, and are not made during normal dinner hours of 5-6. Our primary objective is to thank them for their business and let them know you care. If the customer is very happy, we ask one question. If there was a problem, we delve into it and ask if they would like someone to call them back.
Benefits:
Create awareness with all your store associates of the importance of satisfying every customer
Drive associate behavior to ensure each customer leaves satisfied
Drive customer satisfaction levels to new heights
Discover and resolve areas of dissatisfaction
Find and quickly respond to customers who are dissatisfied
Provide an online reporting system that delivers timely results
Automated Social Media Reviews Posting
Online reviews are becoming a key component of the purchase decision. Whether it be on Facebook, Google+, Yahoo, your website or some other social media property, the online reviews for your business will be a key consideration point for potential customers.  With our automated social media reviews posting tool, we can facilitate the posting of your positive customer satisfaction survey email responses to all your social media properties as positive reviews. You decide which survey responses you want to post and with a single click you're done.